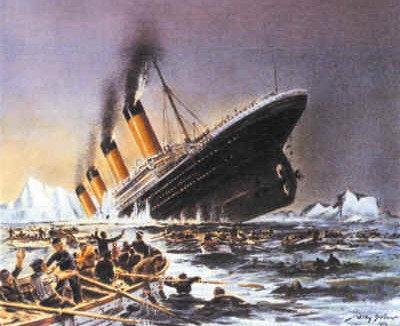 The last Titanic survivor has died–a woman who was only nine weeks old when the ship went down. As was common, she, her mother and baby brother survived, and her father went down with the ship. From Millvina Dean, Titanic's Last Survivor, Dies At 97:
Dean said her father's quick actions saved his family. He felt the ship scrape the iceberg and hustled the family out of its third-class quarters and toward the lifeboat that would take them to safety. "That's partly what saved us — because he was so quick. Some people thought the ship was unsinkable," Dean told the British Broadcasting Corp. in 1998.

Wrapped in a sack against the Atlantic chill, Dean was lowered into a lifeboat. Her 2-year-old brother Bertram and her mother Georgette also survived.

"She said goodbye to my father and he said he'd be along later," Dean said in 2002. "I was put into lifeboat 13. It was a bitterly cold night and eventually we were picked up by the Carpathia."

The family was taken to New York, then returned to England with other survivors aboard the rescue ship Adriatic. Dean did not know she had been aboard the Titanic until she was 8 years old, when her mother, about to remarry, told her about her father's death. Her mother, always reticent about the tragedy, died in 1975 at age 95.