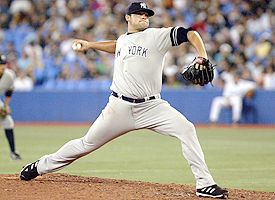 "[Joba's] father Harlan…suffered the crippling effects of polio since childhood and who raised Joba on his own after he and the boy's mother divorced. Joba had left-knee surgery as a sophomore at Nebraska, and he spent his first hours of recovery sprawled out on the couch at their Omaha home. At 5:30 in the morning, Harlan hobbled into the living room on crutches and saw the bag of melting ice on his son's swollen knee. "'We need to change that,' he said. Then, taking the bag between his teeth, he labored slowly to the kitchen for a refill.
At that moment, Joba understood the depth of his father's love."–Buster Olney, ESPN, 12/5/07
New York Yankee rookie phenom Joba Chamberlain was raised by a single father, Harlan Chamberlain, who was partially crippled with polio as a child and grew up in foster homes. Harlan also raised Joba's sister. Last season Chamberlain made 11 appearances for the New York Yankees before giving up a single run. Joba says about his dad: "If I can be half the man and half the father he was, I'll be very, very happy and have a great life…He was out there after work, and doing the things he did with one arm. We made do with what we had…to be given what he was given and never to bat an eye, never look back." According to Wikipedia: "Joba Chamberlain grew up in Lincoln, Nebraska. At age 3, his parents divorced, and his father Harlan, a counselor at the Nebraska State Penitentiary, took custody of Joba and his older sister Tasha. The family lived in poverty, with Harlan often pawning his possessions to buy things for the children…Chamberlain's father was born on a reservation for the Winnebago American Indian Tribe, but had to leave to be treated for polio. Harlan spent his childhood in hospitals and foster homes and now uses a motor scooter to get around." To learn more, see:
New Yankee Rookie Phenom Joba Chamberlain Was Raised By Disabled Single Father My His Side with Glenn Sacks radio commentary New Yankee Rookie Phenom's Heroic Father. Buster Olney's Joba is NEXT … with an exclamation point (ESPN The Magazine, 12/5/07).